Childrens Pottery Classes
Childrens Pottery Classes run for eight consecutive weeks, and coincide with Victorian school terms. Numbers are limited to twelve per class.
Information about adults classes is available HERE 
Visit the ENROLMENTS pageto enrol online or call me on 0438382522
***Casual attendance is welcome, however the fee structure is different and is payable at the beginning of class:
Adults casual rate $30.00
Children's casual rate $21.00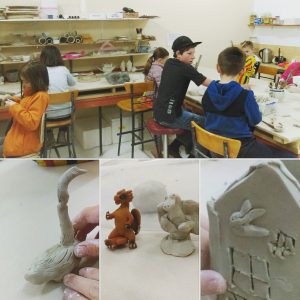 Term fees provide access to tuition, and all tools and equipment. Clay is available for $2.00 per 1kg, and a firing fee of $19.80 per kilo applies for works when ready to take home ie: an average coffee cup weighs 300gm, so this would cost approx $5.95 to take home.
**** PLEASE NOTE – a minimum of 5 enrolments are required for classes to begin.
**** PLEASE NOTE – make up classes are available at the scheduled term times, however refunds will not be given for missed classes.
Full Terms and Conditions can be accessed HERE
Visit the BLOG to check out the weekly class fun for both adults and children!
Term 1, 2020
Childrens Classes: EIGHT week term
Beginning 29th January – 21st March.
Wednesday 4-5.30pm or Saturday 10am-11.30
Set projects are explored using a range of handbuilding techniques.
Projects hone both imagination and fine motor skills, and explore the 3Dimensional object within space taking into consideration proportion, design and personal creativity.
$135.00 per term (materials and glazing not included: these costs will vary dependent on what a student makes)
Visit the SHOP to enrol online or call me on 0438382522
More pottery fun from previous kids classes can be seen on the ClayMotion FACEBOOK and INSTAGRAM pages – so be sure to follow us for updates.
** Gift certificates can be purchased for all ClayMotion classes if you would like to give one as a gift **