Birthday Parties & Other Events
*** Due to Physical Distancing protocols numbers are now capped at six until further notice***
ClayMotion creative birthday parties & other Events are now also available ONLINE for those in remote and regional areas.
Parties & Events can be tailored to suit adults and children, and are a great alternative to fast food parties. Parties run for two hours.
Creative Birthday Parties can be tailored to your needs and activities include pottery or mosaics. Read on for more details….
Birthday goers get to see and experience a 'real' artist studio and have a creation that they have made and can keep forever- this can be a fascinating experience!
Pottery Project
Children make and decorate a treasure box each from clay; adults can also make a treasure box or may chose to make a coffee mug, vase or a bowl.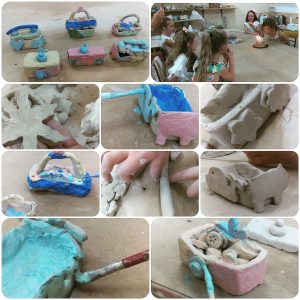 First Hour – the creative project is made
Fifteen minute break for birthday cake, drinks and snacks
Forty-five minutes to paint your creative project
No previous experience is required and full supervision and guidance is provided in a relaxed creative online atmosphere.
Adults can also make a treasure box or perhaps the vases pictured below, or you may have an idea of your own.
Mosaic Project
Birthday goers will create a mosaic picture based on their own creative design, though guidance and templates are available for inspiration. Your piece will be approximately 15x15cm and will be a great reminder of this special day.
A break will be taken during the class for birthday festivities – a drink, snacks and birthday cake.
No previous experience is required and full supervision and guidance is provided in a relaxed creative atmosphere.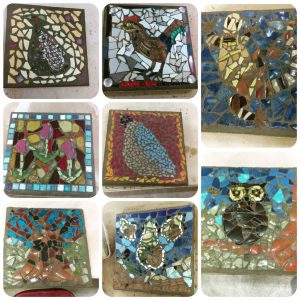 Pricing Structure
Price includes materials (clay, glaze, mosaic tiles, etc), kiln firing and delivery of materials to a single location (perhaps the birthday person) via Australia Post if you outside the Ballarat area – rural and remote parties can be conducted online. Postage and online events are available Australia wide – please contact me for this option so as postage will vary depending on the quantity and weight of materials.
Fee per Person – $35.00 per child OR $42.00 per adult. Bookings can be made via email or by phone on 0438382522, or via the SHOP or submit the form below.
To see more birthday party fun from previous workshops visit the ClayMotion FACEBOOK and INSTAGRAM pages – and be sure to follow us for updates.
See ClayMotion Terms & Conditions HERE