ClayMotion gift certificates can be purchased for any of the products in the ClayMotion shop, and are a unique gift.
They can be redeemed for pottery classes, mosaics, drawing, acrylic pouring – any of the classes being offered, and they are valid for 3 years*. ClayMotion gift certificates can also be redeemed for art supplies and locally made giftware in the shop.
To purchase a gift certificate visit the Gift Certificates category in the Shop and place your order. If you would like the gift certificate sent to somebody other than yourself specify their name and email address in the "Order Notes" box upon checkout and I will organise emailing it to them for you.
Snail mail can also be organised if preferred.
*GIFT CERTIFICATES ARE VALID FOR THREE (3) YEARS FROM DATE OF ISSUE AND NO EXCEPTIONS CAN BE MADE*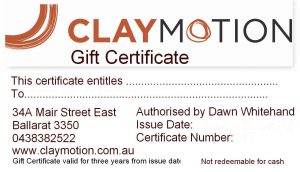 Upon receipt of payment the gift certificate will be sent to you as specified at checkout.
To see lots of class and workshop fun visit the ClayMotion Facebook page for lots of images and even more info, or check out the BLOG.
Please read ClayMotion Terms & Conditions HERE